Want to know who's in the area?
Go to the Member's page
Need the password?
Email Club President

---
Mission Statement
On a regular, predictable timeline, club members will provide a venue in the southern Atlanta area for Citadel graduates, families, and prospective Citadel family members to come together. We will meet in order to socialize, sponsor new cadets, and support the Citadel and Citadel alumni.
The members of the Southside Atlanta Citadel Club will plan and organize regular meetings of local Citadel graduates, families, and prospective Citadel cadets. The meetings will provide fellowship and entertainment for members, sponsor new cadets, and support the Citadel and Citadel alumni.

---
TO&E
Is this term still used anymore? Regardless, please take a moment to update your vital statistics such as email, phone, address.... and if you happen to know any information on other grads in the area, please let us know so we can contact them.

---
The Citadel Alma Mater

Oh Citadel we sing thy fame
For all the world to hear,
And in the paths our fathers showed us
Follow without fear.
Peace and Honor, God and Country,
We will fight for thee.
Oh Citadel, we praise thee now
And in Eternity.
Oh Citadel, though strife surrounds us,
We will ever be
Full conscious of the benefits
That we derive from thee.
Stand forever, yielding never
To the tyrant's Hell
We'll never cease our struggles for
Our mighty Citadel.
Cadet A. Preston Price '43
</P>

Press Start Key Twice
CONTACT INFO: Please let us know of any changes in your contact information or to add newly located Alumni to our listing.



We Are A Gold Star Club
---

2020 marks our 17th year

This picture, taken at our third meeting, tells what it's all about. Perhaps it was best stated by Landon Moxley when he said "We had a great time last weekend, always good to be able to spend time with good people."

From the beginning we felt the club shouldn't be restricted to the "long grey line" but should include those that make our lives so rich - wives, significant others, children... don't leave home without them.
---
Meeting Schedule for 2020

Please mark your calendars in advance! We know that each of you have very busy lives but please work your schedules around these dates. Based on your feedback that sometimes the Saturday meeting dates are difficult to work around, we will be alternating between Saturdays and Thursdays. We are now working on the planning of the event and the venues - check back often.

Date

Event

Directions

October 10, 2020
Citadel Football vs Mercer - Have Southside Atlanta Club Tailgate or combine with other Citadel Alumni clubs.
Macon Ga
December 12, 2020
Holiday Party (day time) - Seafood Paella and Oysters
Carl Boone's Cabin in Peachtree City or Banks Glover's Pavilion in Newnan.
Please RSVP prior to each scheduled meeting so that we can make appropriate plans. RSVP to Daryl Greenberg, darylgreenberg@comcast.net
---
Rescheduled Muster and Remembrance of Dr. Don Mullen
| | |
| --- | --- |
| Even though we have been limited with the Covid-19 virus, we had a remarkable turnout. | And as always, a good ring picture... |
---
Dr. Don Mullen '57
Donald Collins Mullen passed away on May 17th at his home in Newnan Ga. Don led an extraordinary life - Citadel graduate, MD from Duke, thoracic surgeon, later to change careers and was ordained into the Ministry. He served as a medical missionary to virtually every continent on earth. Later he became the Mayor of Higlands North Carolina before moving to Newnan to be with his extended family. He was active at Central Baptist Church and was a loyal Club Member. He will be missed. To view his obituary click here.
---
Changing of the Guards
Rob Isaac as president, has held the reins of the club for the past two years and has done a magnificent job - that on top of having a regular job, a family and working on his Masters degree in the evenings. Suffice it to say that this is probably more than he bargained for. In order to make a smooth transition we elected to have Rob remain the titular President with several committe heads handling the heavy work.
Rob Isaac will be taking a step back on some of the overall club responsibilities; as such, there are several persons who very generously volunteered to take over some key roles to helping keep our club successful.
- Brian Waters will be serving as our club liaison to the Alumni Association with regards to relaying events coming up and coordinating the Gold Star submission
- Todd Rivers will continue as our recruiting lead. If anyone would like to help support Todd, please reach out to him
- Daryl Greenberg will serve as our meeting coordinator to assist and plan the upcoming events. Lots of great ideas were shared at our meeting and we look forward to more folks attending in 2020.
- Banks Glover will continue to support our website and ensure the site is up to date with current officers/roles within the club, pictures from events, and other items that we would like detailed online
- Rob Isaac will serve as the social media coordinator and work to make our presence more known on Facebook for 2020 with a goal of reaching more local alumni
---
2020 Kickoff Meeting - Thursday January 23rd.
| | |
| --- | --- |
| And really observant readers will notice that there is a Brewery behind us. | Could that be the reason for such big smiles? |
---
2019 Christmas Party



Really good Christmas Party at Carl Boone's Wynns Pond Cabin. Second year we have had it here.. it's always good fellowship.


Carol Glover provided a custom Citadel Tree in the colors and decorations of El Cid.
---
2019 Knob Sendoff Party






John Utley. (Parents: James & Hallie)
Ty Duben. (Parents Matthew & Jeanette)
John Eamiguel. (Parents David Mace)
Will Lawton (Parents: William & Misty)






Doug Powell, Jack Camp, Patrick Houlahan, Kendall McKnight, Ed Palmer, Banks Glover, Carl Boone and

Robert Isaac
---
2019 Muster Service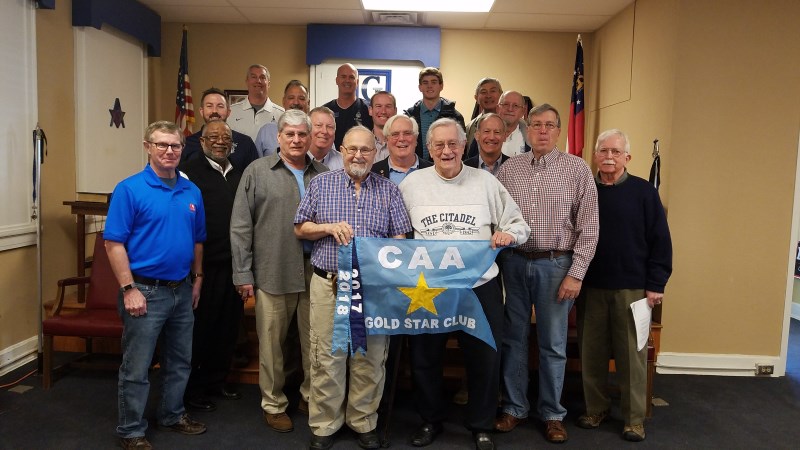 A good turnout with 18 Alumni in attendance

---
February Planning Meeting
We met at our favorite restaurant, Mama Lucia's and had a really good turnout with representation from classes of '50s, '60s, '70s, '80s, '90s, and '00s
We elected our slate of officers for 2019 as follows:

President - Rob Isaac '08
Vice President - James Holt '02
2nd Vice President - Daryl Greenberg '96
VP of Recruitment - Todd Rivers '88
Webmaster - Banks Glover '69

On behalf of the clubmembers I wish to thank James Holt for his year of leadership as club President.
---

Christmas - December 2018
| | |
| --- | --- |
| Ed Palmer '74, Lee Nall '71, Carl Boone '74, Banks Glover '69, Wilder Davis '60, Joe Black '67, Jack Camp '65, Steven Boecker '84, Mike Swain '73, President James Holt. | And we couldn't do it at all without our ladies. |
---
Low Country Boil - October 27 2018
Thanks to Daryl Greenberg for hosting a Low Country Boil at his home. The event featured a smoked brisket, plenty of brew and a well stocked bar. As is our custom, wives and family are always invited. In this Picture I believe the ladies were all in the house.
---
Message from Ray Mayer, our Club's Past President

Greetings, brothers. This is from Ray Mayer. I hope all is well. This is really an announcement. I have not been completely idle since retirement. I wrote a book and I am excited to say that it's out:

As the book subtitle, "a novel of a century of American warriors," suggests, it is a piece of military historical fiction covering WWI through the War on Terror, and it is quite friendly to The Citadel (imagine that), with two of the main characters being grads and it otherwise being centered in the South Carolina low country (as it's not just a war story). It really is a celebration of the admirable character of Citadel grads and combat vets. It (in my humble and unbiased opinion) is a thoroughly enjoyable, fast-paced book with plenty of humor thrown in.

The book is available online at Amazon and Barnes & Noble, and via my publisher, Deeds Publishing in Athens (but not likely many bookstores yet). I do have a stock of books, so you could get one from me for less than the others, inscribed. (If you are so inclined, I'd need your address and what you may want as an inscription.) In any event, I, of course, hope you buy it and thoroughly enjoy it.

Thanks. Take care. Ray
---