Past Meetings, Events and News


---
---
Christmas Party 2017 at Wynn's Pond
We had a much smaller attendance than usual due to a late announcement but nonetheless a great party. Above left to right first row, Jack Camp, Carl Boone, Banks Glover, Irene and Joe Black '67, Steve Boecker '84, James Holt. Back row, Elizabeth Camp, Rob Isaacs. Welcome for the first time were the Blacks and Stever Boecker. Steve came in late because he inadvertantly stopped by the wrong cabin, enjoyed several beers and snacks before it became obvious that he was at the wrong party. He said that the folks there were really gracious.
---
Club Planning Meeting at Meat'n Greet - July 13, 2017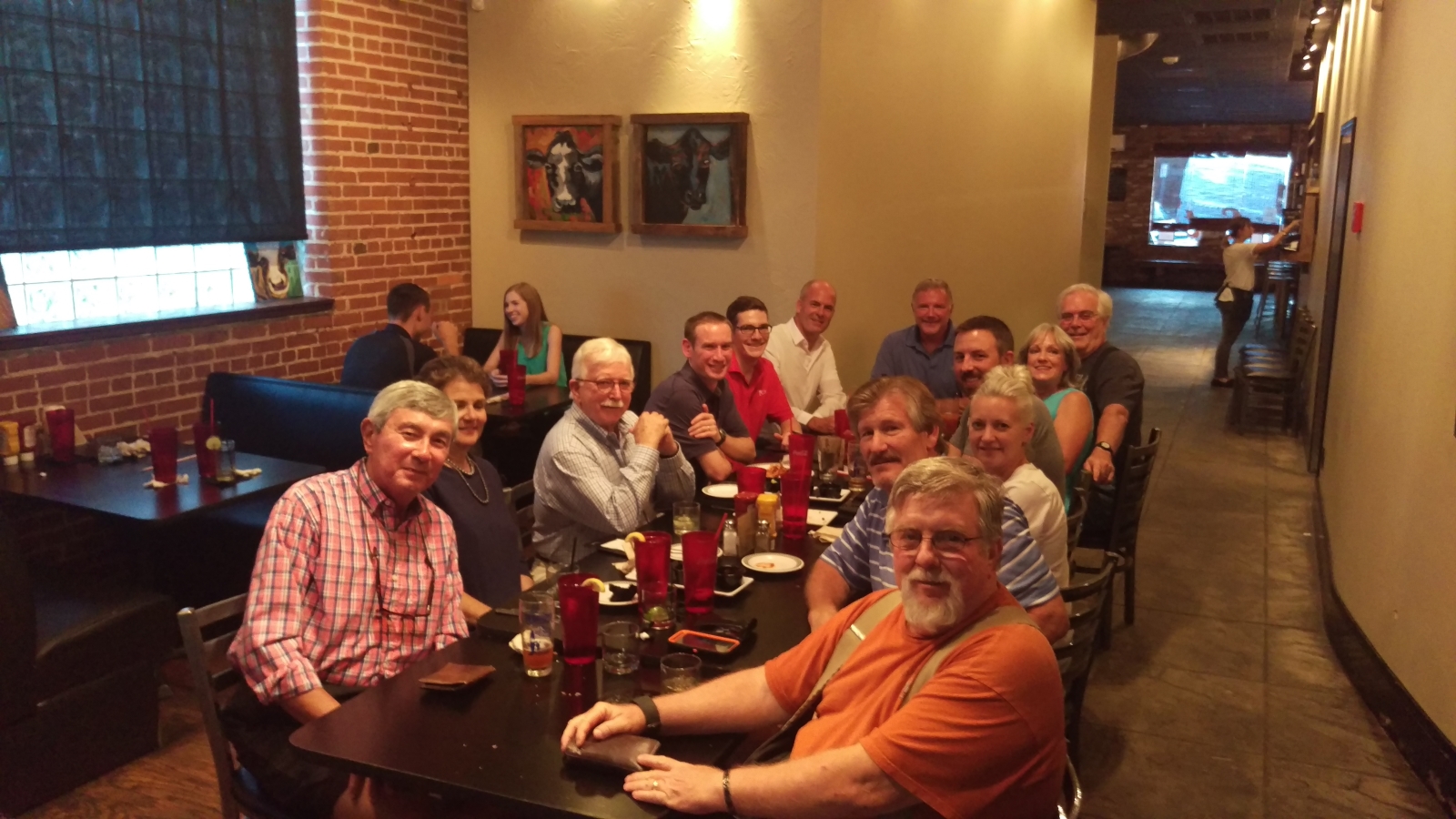 Clockwise beginning left: Mike Swain '73, Liz Camp, Jack Camp '65, Rob Isaac '08, Alex Casalino '17 (newest member), Todd Rivers '88, Mike Kelsch '80, Banks Glover '69, Carol Glover, James Holt '02, Laura Potash, Marty Potash '78, Carl Boone '72
---
June 2017 Meeting - Cookout at Wynns Pond.
Really good turnout in spite of the week long threat of rain and great to have Daryl Greenburg back if only for a short visit. (click on pic for larger view)




Incoming Cadet





Cameron Clark drove all the way from Columbus to join our meeting. She has the attitude and drive to make it all the way. Cameron, we thoroughly enjoyed your visit and stand ready to assist you in any way you may need.
---
2017 Muster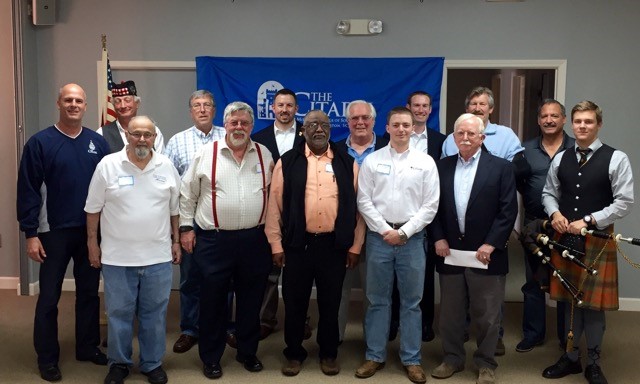 Once again we had a really good turnout for our 2017 Muster.
And this note from our lead piper
Dear Bulldogs,
Thank you so much for including me in these musters. I look forward to them every year. Of course the food is wonderful but the camaraderie is the greatest. Additionally, the purpose for this particular muster is so right and good. We need to remember our friends, and comrades and our band of brothers (now sisters also) who enriched our lives and who, in many cases, served in the armed forces to assure we can muster from time to time in peace and security. As you know, I did not attend the Citadel but I have always admired and respected those who did. You are a very fine lot and I am humbled you embrace me as one—at least for a day.
A special thanks to James for his willingness to head up this group. Let me know if I can ever help you out. Really, I mean it.
Michael Scott
---
Scott Clements '84 - Pilot and Gentleman Farmer

Read this Newnan Times Herald article about Scott's Peach Plantation.
---
Knob Sendoff


We had three incoming Class of 2022 freshmen in attendance, all on scholarships, as well as our wonderful regular group of Alumni and more importantly, wives. Carl Boone graciously provided the Cabin as well as his world famous ribs.

Our club events are getting a little bigger and much better each time we have them. If you've never been to one, please come out to our next one! We always have beer, good times, and a relaxed atmosphere. Our regular attendees range from the early 60's classes all the way to the teens. And our events are always family friendly, so please bring your off duty supervisor and kids!

Our next event will be an oyster roast in the fall, details to follow in the next few weeks.

Click on any picture for greater detail.



Our host and Master Chef, Carl Boone




Incoming Knobs, parents and club President.




l-r, Brady Taylor, his mom, James Holt (club




president, Emily Mason, Mel Mikoy's father




Mel Mikoy, her mom.




Great lookin' group of folks - don't you agree?
---
Hunter Pike, Class of 1967


Although Hunter never attended our club meetings, he was a friend to both Jack Camp and Banks Glover. Hunter and his brother Randy '68 were raised in Newnan and made the trek from Newnan to the Holy City many times with Jack or Banks or Eddie Cole of Carrollton. He was a great guy and loved by so very many. Rest in Peace Hunter.
Irwin Hunter Pike, Jr., 73, of Newnan, husband of Janelle Lucille Eifinger Pike died June 24, 2018 at his home.

Born in Birmingham, AL, November 30, 1944, he was a son of the late Irwin Hunter, Sr. and Helen Sorrell Pike. He was a US Army Veteran and was retired after many years of service in sales. Mr. Pike was an avid traveler, loved gardening and was a Civil War enthusiast and was a graduate of The Citadel.

Surviving in addition to his wife of the home are three children, Jeffrey Pike and wife Natalie of Knoxville, TN, Geri Moss and husband Jon of Newnan and Allyson Davis of Pendleton, SC; four granddaughters, Holly Pike, Frances Pike, Evie Moss and Laine Moss; brother, Randall Pike of Surrey, VA; sisters, Gail Zoeller and husband Terry and Lisa Ann Gaddy and husband Dennis, all of Newnan.

Graveside services with military honors will be conducted Wednesday, June 27, 2018 at 11:30 AM with Rev. Charles Robinson to officiate. Those attending the service should arrive at the cemetery at 11:00 AM.
---
Knob Sendoff Planning Meeting - April 26, 2018, Chili's in Peachtree City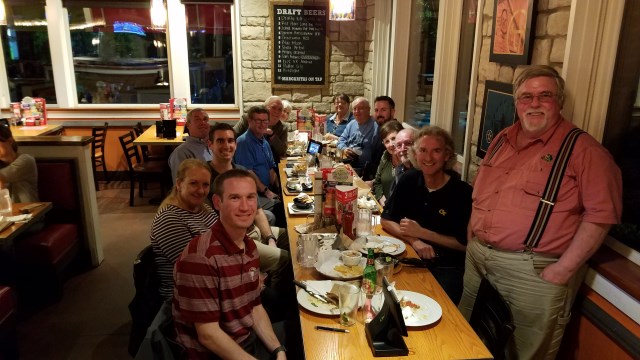 ---
Muster - March 2018
L-R: Michael Scott, Bill Horne '63, Brian Waters '81, Don Mullen '57, Jack Camp '65, Bob Smith '60, Dana Graham '80, Brady Taylor '22, Joe Black '67, Doug Powell '72, Marty Potash '78, Banks Glover '69, Todd Rivers '88, Robert Wiemann '79, Rob Isaac '08, Lee Nall '71, James Holt '02
---
Great News
A note from our Muster piper, Michael Scott. For the past 3 or 4 years Michael has brought his young piping apprentice, Brady Taylor to pipe for us. The following was received from Michael subsequent to our invitation for this year.

I don't know if you are aware of this but Brady was accepted into The Citadel last month with a full bagpipe scholarship. Even partial piping scholarships are rare at The Citadel. A full scholarship for a piping student is almost unheard of especially for a freshman. The pipe major traditionally holds full grants in reserve for third and fourth year students who have proven themselves and who have endured the rigors of the knob year. Also, Brady obtained his Eagle Scout designation and will carry that distinction with him the remainder of his life.
Thank you for asking me to participate. I certainly plan on it and will work on a couple of new tunes in anticipation of this event. As always, you and the entire Southside chapter are too nice to me.
Michael
---
P
lanning Dinner, February 2017 at Mama Lucia's
---

Rob Isaac introduces a prospective cadet to the world
Thomas Baker Isaac Born July 22nd, 2017

---
Planning meeting was held at Newnan's Meat and Greet. We were able to put several items on the meeting schedule. Rob did a fantastic job of running the meeting and coming up with the event schedule. James couldn't make the meeting as his wife was in labor. Want to see the outcome?
| | |
| --- | --- |
| | Presenting James William Holt IV |
---



Past President hands over the Presidential Plaque and the club treasury envelope to incoming president James Holt '02.

Message from Outgoing Club President Ed White

I'm happy to report that the Southside Atlanta Citadel Club held an election on Saturday, Feb 18, 2017, and the alumni listed below were elected.

President: James Holt '02
1st Vice President: Rob Isaac '08
2nd Vice President: Todd Rivers '88
Sgt-at-Arms and Webmaster: Banks Glover '69
Club Founder and Advisor: Jack Camp '65
Immediate Past President and Advisor: Ed White '66
---
---
Governor Nathan Deal appointed David Hewes ('70) to the Aviation Hall of Fame Board. Hewes retired as a programming directory with AAR Corp. at Delta Airlines. He began his career with Southern Airways and has experience in technical operations, in-flight service, finance, security and aircraft accident investigation. Hewes earned a bachelor's degree from the Citadel. He and his wife, Catherine, have three children and four grandchildren. They reside in Newnan. (Newnan Times Herald, December 21. 2016)
---
Christmas 2016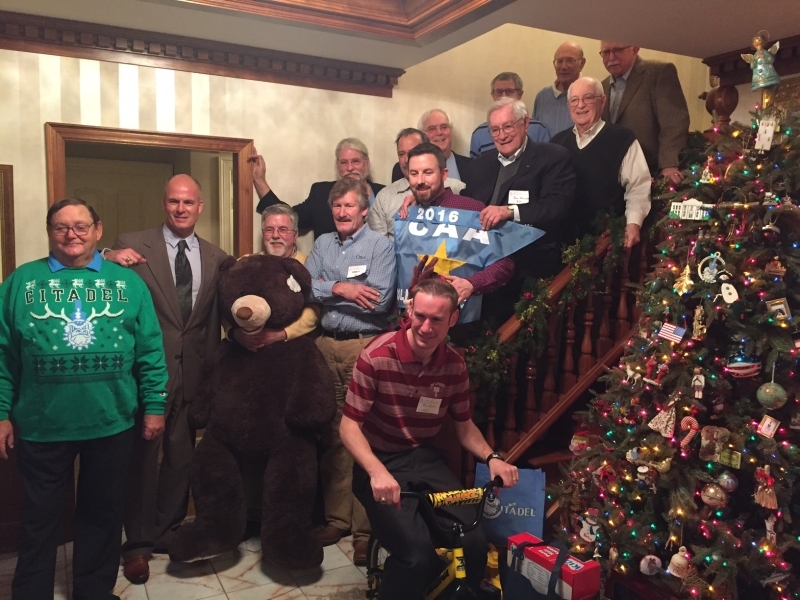 On December 4, 2016 members of the Club gathered at the Peachtree City White House to celebrate our selection as a Gold Star Club and another highly successful Toys for Tots campaign. Pictured from left to right is Club President Ed White, Club Vice President Todd Rivers, Carl Boone, Marty Potash, Doug Powell, Bob Wiemann, James Holt, Co-founder Banks Glover, Brian Waters, Don Mullen, Wilder Davis, Bill Horne, Co-founder Jack Camp and in front, Rob Isaac.
---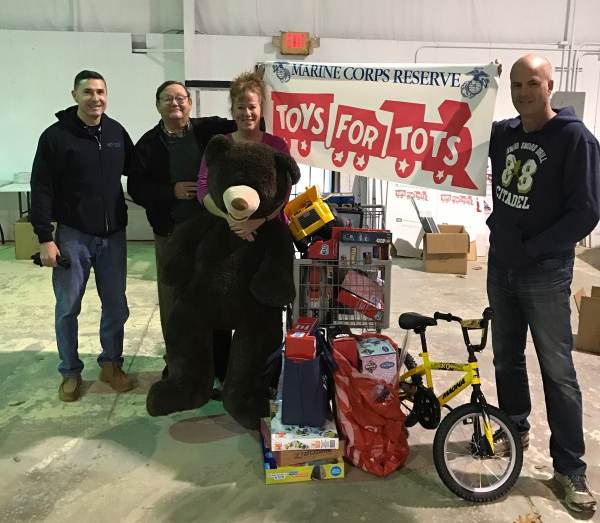 Club President, Ed White and Club Vice President, Todd Rivers met with Michael Keever, LTC USMC (Ret) and Michelle Gillespie, leaders of the Coweta County/Fayette County Toys for Tots program to distribute toys gathered by our club during our 2016 campaign.
---
Oyster Roast, November 2016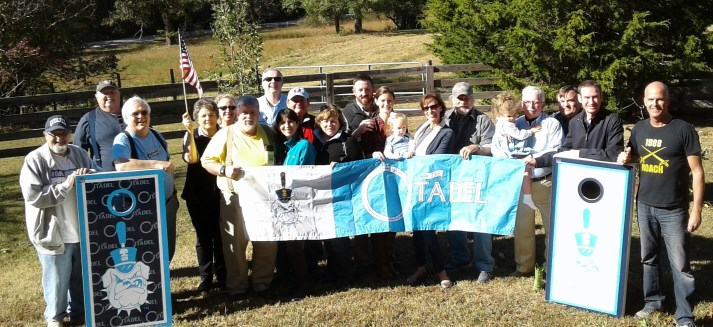 Held at Jack & Liz Camp's farm... good turnout, great food and wonderful company.
---
February 2016 Club Meeting at Mama Lucia's
Great meal with wives and fellow alumni (picture not so much!)
---
Annual Muster, March 2016



Our largest turnout to date. 17 Alumni plus several wives, parents, visitors and our always welcome pipers.

Front row: Bagpiper Brady Taylor, Bob Smith '60, Jack Camp '65 (Founder), Brian Waters '81, Patrick Waters '11, Ed White '66 (President), Tres Taylor '13, AJ Ross '15, Jack Ritchey '80, Bagpiper Michael Scott
Second Row: Bob Wiemann '79, Banks Glover '69 (Founder), Todd Rivers '88 (Vice-President), Doug Powell '72, Rob Isaac '08, Mike Swain '73, Tyler Smith '13, Lee Nall '71, Marty Potash '78
---
Highlights of the Muster - click on picture for larger view.
| | | | |
| --- | --- | --- | --- |
| Piping the entroit. | Presentation of Signed Citadel prints to our esteemed pipers | Some of us decided to eat while the rest of the crowd swapped "war stories". | Our own three Junior Sword Drill Alumni: l-r Todd Rivers '88, Lee Nall '71 and Jack Camp'65. |
---
Southside Atlanta Citadel Club "Spawns" new Georgia Club
On April 14, 2016 the newly formed Northeast Georgia Club held its first meeting and muster in Gainesville, GA. Club founder and past president of the Southside Atlanta Citadel Club, Ray Mayer, presided. Ray recently moved to Hall County from Coweta County and quickly identified the need for a Citadel Club to support the growing number of graduates in the area. He reached out for help from Jack Camp and Banks Glover, cofounders of the Southside Atlanta Citadel Club, as well as Ed White, club president of the Southside Citadel Club and Georgia director of The Citadel Alumni Association. In short order the club was formed. Ed and our club vice president, Todd Rivers, were present at the first meeting and served as guest speakers to discuss current school events and The Citadel recruiting programs in Georgia. Ed also briefed the club on our efforts to create a mentoring program for cadets planning to move or return to Georgia after graduation. Click HERE for full Story
---
January 2016 Club Meeting at Smokey Bones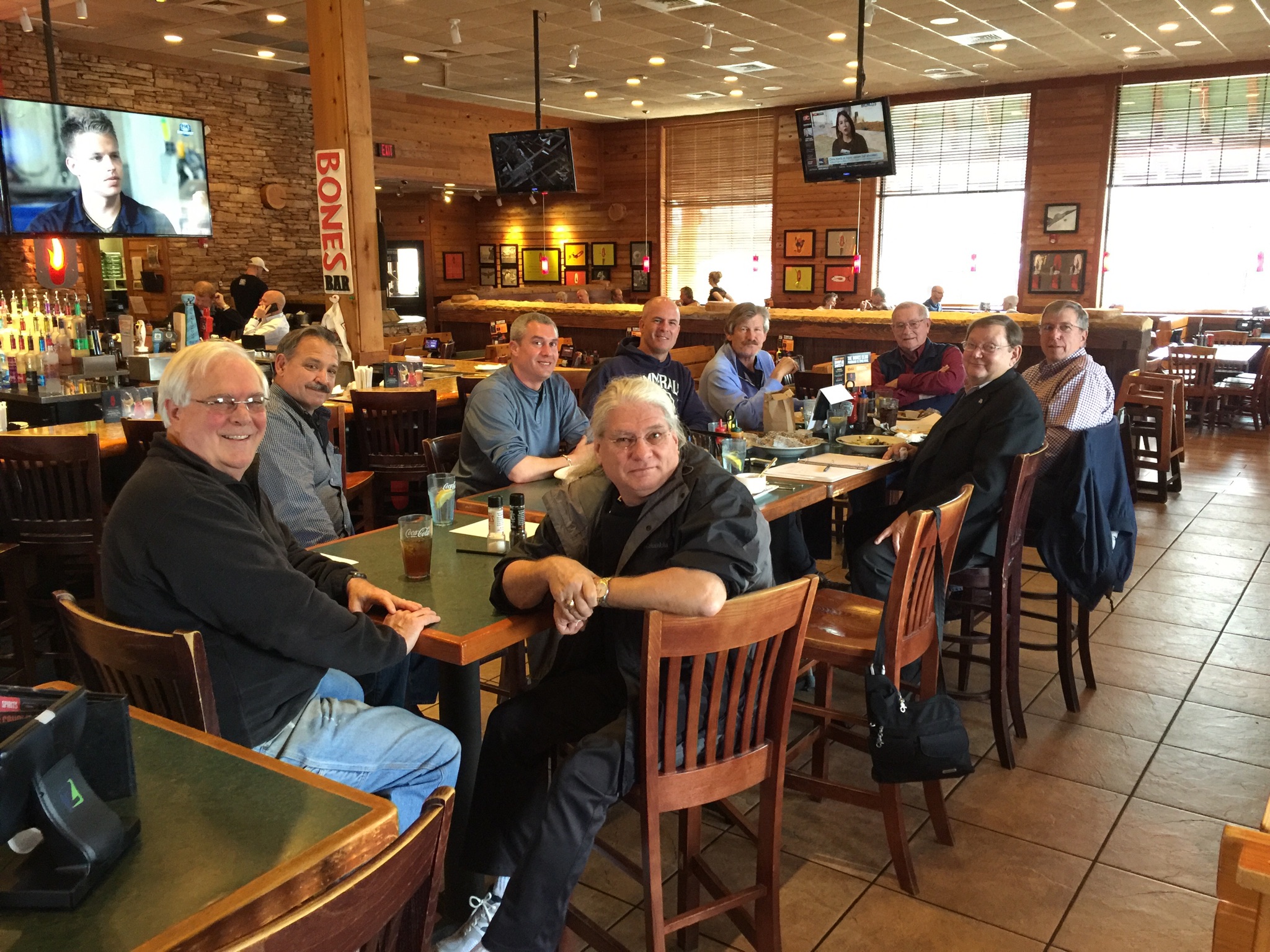 Clockwise beginning at end of table: Banks Glover, Bob Weimann, Dary Greenburg, Todd Rivers, Marty Potash, Don Mullen, Lee Nall, Ed White and Doug Powell
---
Christmas Meeting 2015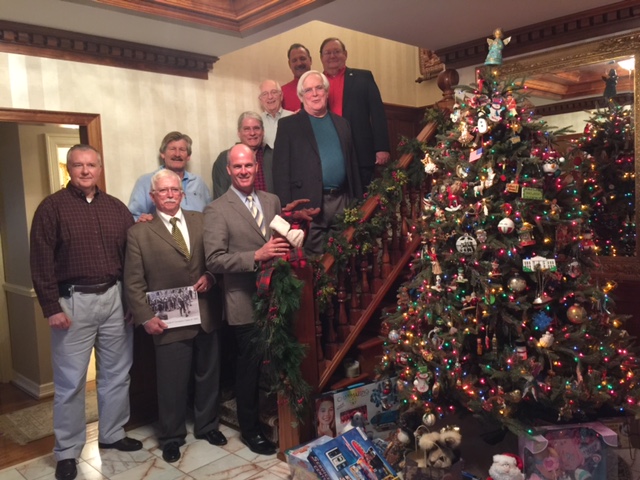 Club members enjoyed a holiday gathering at the home of our Club President, Ed White and his wife, Diane on December 6, 2015. With a delicious spread and plenty of holiday "cheer", a good time was had by all. The party marked the end of a highly successful Toys for Tots campaign conducted by our Club in support of the Marine Corps' effort in Fayette and Cowetta Counties. Thanks to all that contributed. We plan to make this an annual campaign.
---
Family Fish Fry and Oyster Roast 2015
Great party at Jack's. Everyone left stuffed except for Todd River's wife Helen - who knew she won an oyster eating contest by downing 109 oysters in 15 minutes. Fortunately she left a few for the rest of us. Fun games and fellowship. Susan Conlan, mother of David Conlan a recent graduate, showed up to join us - thanks Susan. Also joining us was Ed White's son Trey, a Naval Aviator... kept many of our commercial pilot alumni well entertained. Chef of the event was none other than Charles Stone, retired GBI agent and friend to most all of us.. he did his typical remarkable job with the catfish.
Thanks again Charlie!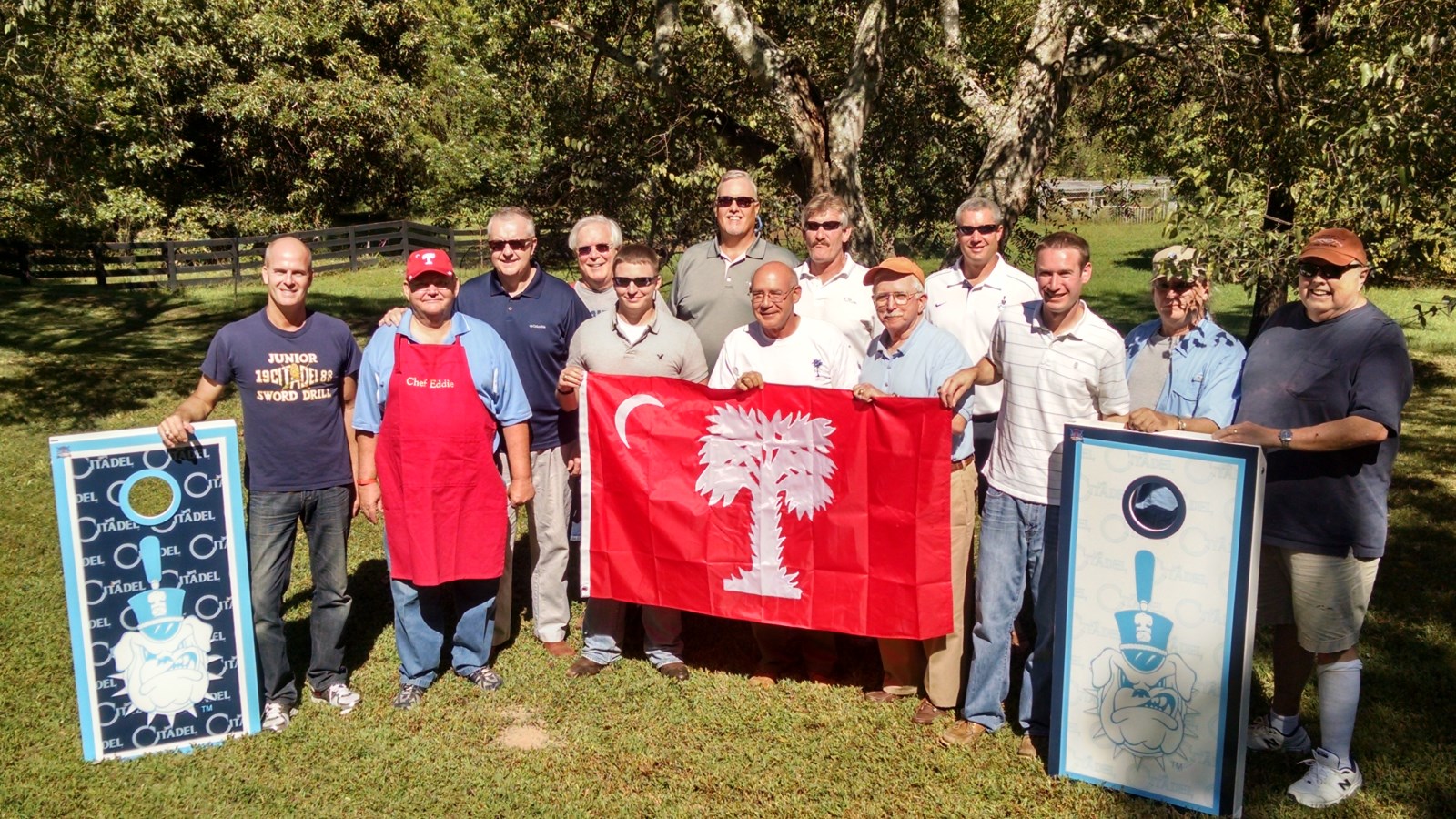 L/R 1st Row: Todd Rivers '88, Club Vice President, Ed White '66, Club President, AJ Jordan '15, newest Club member, Ray Mayer '74, Club Past President, Jack Camp '65, Club Co-Founder, Rob Isaac '08, Doug Powell '72, Oyster Shucker, Charlie Stone, Chief Chef
L/R 2nd Row: Scott Clements '84, Banks Glover '69, Club Co-Founder, "Tiny" Menchinger '80, Marty Potash '78, Club Past President, Daryl Greenberg '96, Chief Oyster Schucker
---
Our 2015 Muster Service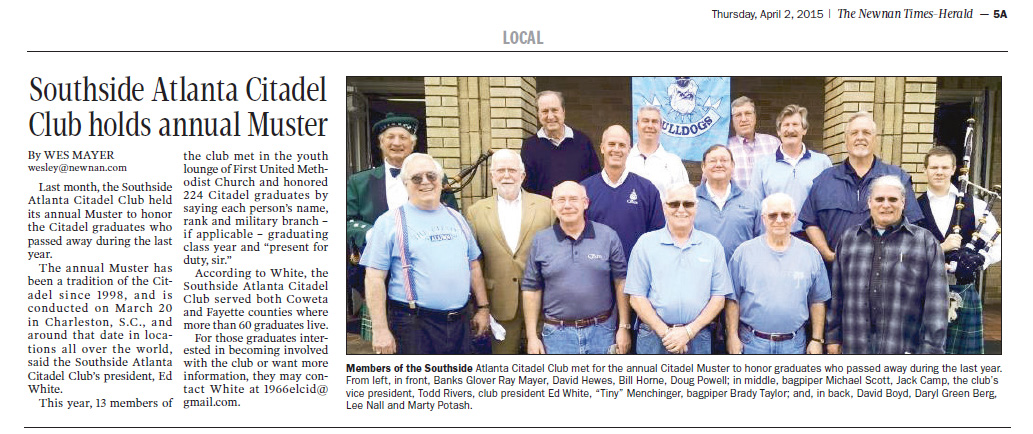 After the Muster Service and meal we held a brief business session in which President Ed White announced several changes he wants to initiate this coming year - first being that we are going to become more heavily involved in the recruitment effort at local high schools and plan to have a special meeting to include prospective cadets and their parents. Second is to make plans for future meetings and events several months in advance so we can each try to avoid conflicts. Third is to plan exciting events such as a camping and fishing weekend at Jack's bass pond and better planning for the annual shootout. Fourth is to reach out to local alumni who were once active in the club but no longer attend.
---
Message from our Club President
(This from an email sent to Tom McAlister of the Alumni Association)
On December 7, 2014 The Southside Atlanta Citadel Club held its annual Christmas gathering. We recognized Ray Mayer for his outstanding service and presented him with the CAA recognition certificate. Tom, this was very well received by not only Ray but also club members who felt it was deserved. As you and I have discussed previously, I believe that a formalized program to recognize Club officers that serve with distinction should be a consideration for the Association. As of the 7th, I assumed responsibility as our Club President and Todd Rivers ('88), an outstanding alum, assumed the position of vice president. Additionally, Banks Glover ('69) has agreed to stay on as our webmaster. We look forward to initiating an active cadet recruiting program in 2015, and the Atlanta Citadel Club has agreed to work with us on this effort.
Changing of the Guard
As co-founders of the Club, Jack and I want to thank Ray Mayer '74 for his tireless work for the club in arranging events and keeping the excitement. We have been so very fortunate that Ray accepted the nomination of 2014 President. On December 7 we gathered for our Christmas meeting at which time Ray officially handed the gavel over to Ed White '66.

Many thanks to both of you

Kind, Fine, Refined and Otherwise Highly Outstanding Southern Gentlemen.

Jack Camp and Banks Glover
---
Our 2014 Annual Muster

Click newsclip for larger image.
The Passing of the Presidential Plaque

From past president Marty Potash '78 (left) to president elect Ray Mayer '74
A Message from Club President, Ray Mayer
"The annual Shootout was a resounding success, thanks to Marty, Jack, Liz, Banks and others. I then was proud to be elected as your next President. Marty will be a tough act to follow. Marty did an outstanding job as President. He worked hard to plan interesting events and to generate interest by our members. He cared, and continues to care, about our club and fellow wearers of the ring. I plan to follow his lead. Our next event will be a Christmas get together at our house in early December. More to follow on that. We then will have a 2013 planning session, probably in January, maybe in Peachtree City instead of Newnan. More to follow on that too. One important item on the agenda will be to elect a Vice President. I invite anyone interested to contact me beforehand. I invite contact from any member with ideas. I can be reached via e-mail, rmayer@pacga.org; cell, (678) 340-2301; home, (770) 304-2443; office, direct line (770) 254-7328; wife (Julie), cell, 678-378-2597."
2013 Citadel Alumni Muster
On Sunday March 10th we held our annual muster recognizing and honoring those who wore the ring and passed away during the year. The weather cooperated. We had 14 alumni plus many friends and family in attendance. We began with the a cappella rendition of the National Anthem sung by Carol Glover, her twin Cathy Wright and childhood friend (and '81 graduate of the Citadel graduate school) Merry Todd. Michael Scott again provided the haunting music of the bagpipes - it's sound harkens us back to the Parade Grounds in the Holy Land. Thanks to all who made it happen. After the program we enjoyed more food than most should be allowed.
Banks Glover '69, Jack Camp '65, Ray Mayer '74, Todd Rivers '88, Eddie Cole ''67, Daryl Greenburg ''96, Charlie Teague '93, Marty Potash '78, Mike Swain '73, Doug Powell '72, Mike (Tiny) Menchinger '80, Don Mullen 57, Ed White '66, Jonathan Lester.
The Newnan Times Herald ran our picture and a write-up about the Citadel and about our Muster. Click here to view the entire article.
---
Brian Waters just informed me of the passing of Lee Waters '82 (O Company) - no kin to Brian. Lee was a Newnan resident although I don't recall his attending any club functions. He had been fighting cancer for several years and leaves a wife and family that may be in need of some financial assistance. Click here to view the obituary.
---
January Business and Planning Meeting
We had our first 2013 club meeting on January 24 at Smokey Bones in Peachtree City. Present were Brian Bossman, Jack & Liz Camp, Banks & Carol Glover, Bill & Sarah Ann Horne, Ray & Julie Mayer, Tiny & Kathryn Menchinger, Doug Powell, John Ritchey, Ski & Barbara Saxby, Bob Smith, Charlie Teague and Brian Waters. We had a good time and conducted a bit of business.
The club elected Charlie Teague '93 as Vice President. Charlie is with the U.S. Secret Service; is married to Debra, a substitute teacher; and they have two children. They live in Newnan.
The club also approved having the annual muster the afternoon of Sunday, March 10, 2013, again at Banks & Carol's home in Newnan. More info to follow on that.
---
Annual Christmas Gathering
Julie and Ray Mayer hosted a Christmas get together at their home. We had a very nice turnout and the food and companionship were excellent. Thanks to all who came and contributed. This is a harbinger of the quality of meetings to come this year.
---
One of Our Own in Need of Prayer
Doug Powell (Kilo, '72) informed me that Tom Hogan (India, '71)was diagnosed with cancer (lung, liver & bone) at the end of June. To date, Tom has had seven, 3-day Chemo treatments. He has a remarkably positive attitude about this, despite the prognosis. Read the following exerpt from the 28 November edition of the Fayette Citizen.
Inspired By Medical Team, Army Veteran Fights Back Against Lung Cancer

Fayetteville, Ga. (November 26, 2012) – Fayetteville resident and retired Military Police Corps officer Tom Hogan is no stranger to intense situations. In fact, this army veteran is an expert at maintaining calm in the midst of chaos. In June 2012, Hogan embarked on his toughest battle yet, against the leading cause of cancer death among men and women: lung cancer.
It was the morning of Hogan's 63rd birthday – June 27 – when Indumathi Bendi, M.D. of Piedmont Physicians Group in Atlanta called with the news. The results of Hogan's Complete Blood Count (CBC) test were in, showing his Lipase count was abnormally high. Dr. Bendi told Hogan to get to the emergency room at Piedmont Fayette Hospital for further evaluation.
Hogan began his battery of tests with an ultrasound screening but results were inconclusive. Then, he had a Computerized Tomography scan (commonly known as a CT scan), which revealed a tumor in Hogan's left lung and many smaller tumors throughout his liver. Next, doctors performed a liver biopsy, all the while explaining to Hogan what each test was, what they entailed, and what information the tests could provide.
"Medical science sometimes underestimates the therapeutic value of a smile, a name and an explanation of what is being done to you and why," said Hogan. "I didn't realize how important this connection would be until then."
By 6 p.m., Hogan was meeting with Jonathan Bender, M.D. of Peachtree Hematology Oncology Consultants, located on the Piedmont Fayette Hospital campus. Dr. Bender told Hogan he had Small Cell Lung Cancer (SCLC), a cancer that spreads rapidly, and is rarely cured with the removal of a tumor. The overall survival rate for this aggressive form of lung cancer is less than five percent.
Dr. Bender recommended Hogan start chemotherapy. Hogan, who refused to let his poor prognosis bring him down, let his military survival instinct take over and asked, "When do we get started?"
Now, Hogan finds himself regularly fighting the disease in rather unusual ways, outside the realm of traditional medicine. This Halloween, a masked man wearing a Superman costume arrived at Piedmont Fayette's Cancer Center, ready to take on cancer and inspiring others to do so with him. The masked man was Hogan himself.
"If someone told me five months ago I was going to have this disease and be positive about it, I would have said 'no way,'" said Hogan. "My experience taught me something I've carried with me throughout my journey: the power of a smile and communication. I know that I matter to everyone here."
Lung cancer accounts for about 14% of all new cancers, according to the American Cancer Society. This year, about 226,160 people will be diagnosed and 160,340 people will die of this aggressive disease in the United States. Usually, symptoms do not appear until the disease reaches an advanced, un-curable stage. Hogan's only symptoms were feeling fatigued and an increasing loss of appetite over a two or three week period before he went to see his doctor.
"Serious conditions don't necessarily make you feel seriously ill," said Hogan. "Don't ignore your body telling you something isn't quite right.
---
Invitation to Fellowship with the Alumni Club in Columbus Georgia
CHATTAHOOCHEE TRACE CITADEL CLUB
Post Office Box 8868
Columbus, GA 31908-8868
706-566-2984
Greetings,
Our Chattahoochee Trace Citadel Club will host a dinner meeting on Thursday, November 8, at 6:00 PM.
Colonel Joe Trez '69, USA (Retired), Executive Director of the Krause Center for Leadership and Ethics at the Citadel will be our special guest speaker.
The cost is $40.00 per person and we will have a cash bar.
Please send your check today to reserve your seat(s). All checks must be received by November 5, 2012.
Thursday, November 8, 2012 Cocktails (cash bar) 6:00 PM
DoubleTree Hotel Columbus Dinner and Program 7:00 PM
5351 Sidney Simons Blvd
Columbus GA 31909
A plated dinner will be served. All Citadel Alumni, spouses, guests or friends of "The Citadel" are invited and encouraged to attend. Dress is business attire.
For additional information please call,
Gene A. Kemp Jr. Send your check to:
Citadel '72 Chattahoochee Trace Citadel Club
(706) 566-2984 Post Office Box 8868
Columbus GA 31908-8868
---
Be a Scotsman for a day!
Michael Scott, our ever faithful bagpiper, has forwarded an invitation to the first ever Scottish Games and Demonstration Hunt sponsored by The Order of the Tartan of the Chattahoochee Valley to be held in Moreland beginning November 10th.
Michael indicated that there will be some 90 horses involved and they also have commitments from 20 of the finished Scottish games athletes in the southeast who will be demonstrating the caber toss, the sheaf toss, the stone and hammer throw among other demanding shows of strength and technique.
This promises to be an exciting event! Click here to view the invitation.
---
2012 Citadel Alumni Muster
This year's Muster was perhaps one of our best attended with 16 Alumni. As is our custom, we were blessed with having almost as many wives as well as children. We began with our guest Piper, Mr. Michael Scott piping the assembly to seats, followed by our President, Marty Potash covering the background and purpose of our Muster. Following the reading of the name and Citadel class of each departed alumni, the entire gathering responded "Present for duty, Sir", as is our tradition. Upon completion of the reading, Amazing Grace was piped, followed by Tap, the Cadet Prayer then the Alma Mater.
We then adjourned for fellowship, music, fine food and camaraderie. Thanks to everyone who made this event possible. Below is a group picture - however 2 Alumni left prior to the group picture being taken.

Click HERE for more pictures. As usual, clicking on a thumbnail will display the larger picture.
Left to Right, back row - Doug Powell '72, Dana Graham '80, ??, Eddie Cole '67, Todd Rivers '88, Banks Glover '69, Marty Potash '78, Ray Mayer '74, David Boyd '60, Michael Scott (guest) front row - ?? David Hewes '70, Bill Horne '63, ??, Jack Camp '65, Bob Smith '60
---
Christmas 2011 -Attendance at the Christmas party was abysmal - only 3 couples showed up. Perhaps we began planning too late! Let's try to re-invigorate the club. It's about having fun and good fellowship. As with all civic and fraternal organizations today, people are just too busy to bother. Let's not let this fall by the wayside.
---
Annual Muster 2011
SUCCESS!!! Muster 2011 is in the books. We made it through this years Muster ceremony with flying colors. I want to thank all of you who participated in this year's event.
I want to thank Ray(our club VP) and Julie who set up the grounds; Banks and Carol Glover who provided and delivered the tables and chairs; and Jack and Liz Camp who offered up their homestead for our ceremony. Another thanks to Dana Graham who led us in the Cadet Prayer prior to the readings and and a heartfelt prayer after. And finally a great thanks to Michael Scott, our bagpiper, who marched us to our seats with a special tune and appropriately "book-ended" our readings with "TAPS"(a real eye-waterer) and "AMAZING GRACE". It was certainly an honor to recognize our Citadel classmates, friends, and alumni, sending them off in a "Blaze of Glory". I can only hope they were as proud of us as we are of them!
Afterwards, we all ate at the usual fine spread our clubmembers bring. You never cease to amaze me; the food is outstanding and we never have duplication. Thanks again to all of you for your continued support of our club.
Marty Potash
President, SACC
Those in attendance:
Marty Potash
Ray and Julie Mayer
Jack Camp
David Boyd
Mike Menchinger
Banks and Carol Glover
Doug Powell
David Hewes
Eddie Cole
Tom Jarret
Daryl and Laura Greenberg
Dana Graham and son, Brandon(future cadet)
Lee and Susan Nall
Steve Macke (our visitor from the northside club)
---
Letter from our club President (2012), Marty Potash

Members of the Southside Atlanta Citadel Club(SACC),
Greetings one and all. Thank you for the opportunity to serve as the President of our club this year. First and foremost, I want to thank Brian Bossman (outgoing president) and Mike "aka TINY" Menchinger(VP) for all of their hard work in keeping our club afloat. Following in the footsteps of Brian will pose a challenge, but Ray Mayer '74 (VP) and I are up for it.
Our goals will remain parallel with the program our predecessors had in place. We have found that communicating through the website and postcard mailing have been somewhat effective. We could present a case to increase our recruiting efforts; however, I don't feel that begging people to support our club is a viable option. They really dont know what they are missing!! If anyone has ideas to enhance our membership, please call me....I'm ready to listen. One thing I would like to do is request RSVPs....It sure helps in our planning...just a quick email or a call.
---
Club Meeting Report December 2, 2010

We met at O'Charlie's and had a reasonably good turnout. The theme of the meeting was to bring handcrafted Christmas tree orniments to be auctioned. This brought in more than $250. As usual we had some really great fellowship. You may remember that Marty sent out cards in hopes of locating some of the "lost lambs". We did get a few address corrections, but the following folks have moved and left no forwarding address or we have the wrong address on record. If you know where they are, please let us know! Hopefully Marty and Ray will finalize the schedule for next year's meetings.



William O. Britt III 51
Marion L. Burn III 77
Scott Clements 84
Ricky Daniels 76
Leroy T. Francis '83
Thomas L. Hendricks 79

John T. Jones 91
Paul W. Lentz Jr. '66
Adrian K. Luster '97
Elvis P Mack 00
Zachary Andrews Mickelson 10
David L. Peck 82

Archie V. Proveaux Jr. 82
Polly P. Rainey '03
Betty J. Rebarick '81
Cynthia Caroline Rudd 09
Kendal D. Smucker 94
---
Club Meeting Report August 26 2010
Well another successful get together has passed. We had 23 folks in attendance on a warm muggy nite for the "Party at Marty's". I want to thank every one for bringing side dishes and drinks. What a spread!! The food and comradery were outstanding. The RSVP definitely helps for the planning of these events; thanks for complying here also.
I want to apologize for the lighting situation on the putting green. I hired a VMI grad to wire these and look what happened! I did manage to climb the tree (against Laura's pleas) and replace the bulbs.I actually tried to do it during the party in the dark but Laura was adamate about her "NO" vote with that stunt. I still can't imagine why!
Maybe we can have a Saturday or Sunday football get together and have a putting competition at halftime. We followed the foodfest with a fairly productive meeting.
As always, we search for ways to recruit more members. Previously, Email and postcards have been the primary means of notification for all of our events. We only have one third of our roster's emails on record; hence,the post cards seem to be a necessity. However, due to expenses, it was decided to do two more mailings which will include a request for an individual's Email or desired removal from our list. This Post Card will also include our schedule for the remainder of the year. Hopefully, we will be able to utilize the internet for all future notification. Remember,we are a dues free organization.
Our "Gunfight a O-Camp Corral" is on schedule for October. Once again a "DON'T MISS" affair; those attendees from last year know what I am talking about. Keep an eye on the web site for details; we are still working out some fine points.
Finally, if you or your family have done anything you would like to share with other alumni, please send me a note, pictures, etc and I will forward it to Banks. We can add it to our web site for all to see. Let's show others the pride we have in our fine group of alumni on the Southside.
Once again, thanks for a great turn-out. If you have any questions or comments, please let us know.
"That Is All"
Marty
---
Firearms Festival - Saturday October 3, 2009

Great meeting: Thanks to those who brought wives and children and especially thanks to our two friends who brought all the "toys" and to Charles Stone, retired GBI weapons instructor. We all learned new self defense techniques, improved our aim and just had a great time. Click here to see some of the pics.



---
2009 Muster
We had a good turnout for our 2009 Muster Formation at the home of Jack Camp ('65) followed by fellowship and supper at David Hewes' ('70) home. Thanks so very much to both Liz Camp and Catherine Hewes for all the hard work in the background to make this a resounding event.

| | |
| --- | --- |
| L-R: Jack Camp '65, Eddie Cole '67, Bill Dubis '65, Daryl Greenburg '96, David Hewes '70, Banks Glover '69, Ray Mayer '74, John Cecil '70, Mike Booone '90, club president Brian Bossman '87, Doug Powell '72 | Bugler Gabriel Triggs of the Newnan High School Band plays Taps to honor our fallen brothers. |
Click here for more pictures from the 2009 Muster

---
Citadel Muster
The Citadel Muster is then remembrance of all the alumni who have passed within the last 12 months. It is open to all Southside Atlanta Citadel Alumni, spouses, parents and friends of The Citadel
Background:
The first annual Citadel Alumni Muster was held in 1998. It was an Alumni Association initiative designed to facilitate an annual coming together of all alumni of the institution, with the purpose of recognizing those in the long gray line of the South Carolina Corps of Cadets who have passed away during the preceding year.
The tradition of Texas A&M, which has conducted Musters since 1883, has been used to develop a new tradition for The Citadel. In honoring those who can no longer stand formation, the event creates a rallying point for alumni. This simplifies the process of getting alumni together by establishing a set date for the rendezvous.
Alumni will come to know that the Muster is always on an exact date - Corps Day, March 20th -- no matter what day of the week it occurs.
In that regard, the Muster is indeed a formation. All graduates and former members of the Corps are expected to report.
We hold a brief ceremony to honor our alumni who have passed in the last year, preceded by a social cocktail hour. If you are not going to be in Charleston on Corps Day please come and join us as we gather together to remember our classmates and alumni who are no longer with us.

---
Jack Camp '65
Slowing down from the rigors of Federal Judgeship?
Read this insightful article
article by Robin McDonald and copyrighted to the Daily Report and reprinted with permission

---
Ltc James L (Bo) Merchant '84
Bo was on our roster as living in Newnan prior to reassignment. I just received the following notification that he was killed this last Thursday January 29, 2009: U.S. Special Operations Command on Friday identified the paratrooper as 46-year-old Col. James L. Merchant III. Merchant landed in a Tampa-area retention pond Thursday. A police rescue diver found him about 45 minutes later. He was pronounced dead at a hospital. Officials say Merchant's death remains under investigation. Merchant was assigned to U.S. Special Operations Command in September 2005 as an information operations planner. He later served as the chief of the information operations division. Merchant is survived by his wife, Terri, of Valrico, and his parents, who live in St. Augustine

---

Resource Guide for College Scholarships

This comprehensive list of resources available for paying for college was sent by a friend very knowledgeable on the subject. Click here then save to your computer.. share with anyone you feel my benefit from it.

---
Golf Outing
We had a great turnout for the golf outing Saturday June 28th 2009. Lots of laughs and even a little thunderstorm. Thanks from Brian Bossman and Marty Potash to everyone who showed up - and a hearty thanks to both Bossman and Potash for their hard work to make it a success. Here's a group picture (click the picture for a high definition portrait). For more pictures, click on the menu button for Photo Gallery.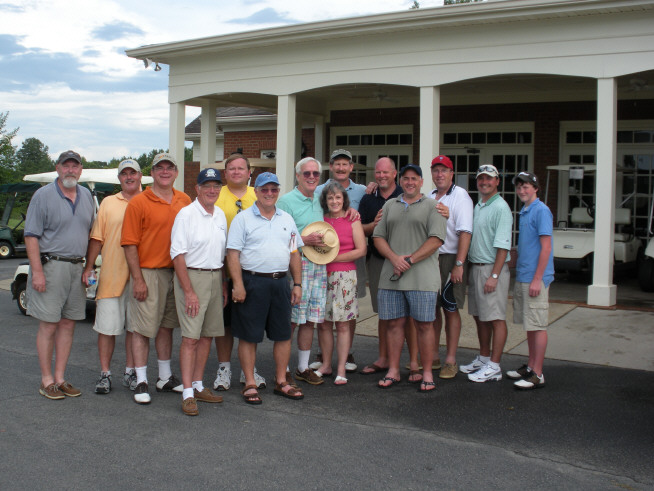 Left to right : Steve Dukes '78, Ray Ballou '78, Larry Jacobsen '79, Wilder Davis '60, Wayne Walters '87, Bill Horne '63, Banks & Carol Glover '69, Marty Potash '78, Eric Larsen '85, Dave Eubanks '85, Lee Nall '71, Brian Bossman '87, Will Bossman (Class of ??)
---
---
Homecoming 2008
Here are pics of Will Nall and David Conlan with their brand new rings. Hard to believe it's been such a short time since they entered the Gates. Last pic is Will Nall with his dad Lee showing their rings. Gentlemen, welcome to the Brotherhood of the Long Grey Line.
Pictures from the June 2008 Golf Outing
Doug Powell has been diligent in getting us the most up-to-date links on Citadel related websites. Click here for a purely Citadel forum. Also check out the Links menu.
How much of Knob Knowledge do you remember? Doug has found a site that has all of the old and new knowledge required for memorization. Check your memories...
click here

---
---
Bowen's Island burns to the ground
Like the death of a good friend, those of us who frequented this marvelous landmark are saddened to know it's gone. My name was carved on several of the tables as were many of yours. Read the article here.


---
AJC Article August 12th about Coeds at The Citadel

---
From the Parents of the Guest Bugler at Muster!

Hello Southside Citadel Club
I was just looking over your site for the first time and noticed my daughter Bethany Nickelson prominently pictured as the Northgate Bugler in the March 2006 Muster picture.
Just thought you might like to know her older brother Ray Nickelson (Northgate 2006 graduate) is an incoming Knob at The Citadel matriculating this coming Saturday August 12. We are all very excited. Thought you might like to know.
We appreciated your hospitality at the March Muster, let us know if you would like Bethany to come and blow her trumpet again.
Sincerely
Bob & Merry Nickelson
Sharpsburg GA
---
News about Alumni Soldiers
Hello Citadel Family Association Friends:
First, The Not-So-Good-News: I am still having a problem getting the current military addresses for some of our deployed cadets, consequently I still have some boxes that are still in my office awaiting a mailing label. We will get it done as soon as I receive the updated addresses via the parents and families of our guys.
Now, for the good news: Approximately 10 December, we sent approximately 20 boxes of "goodies" from The Citadel post office---to date, only one has been returned to me [no reason given].
Thank you all for sending the essentials, cards, letters, and love to us for distribution to these brave Citadel soldiers.
The really good news: Today, 2 January, I received a wonderful email from one of our guys in Afghanistan. It is the first correspondence that I've had with one of our "15". I wish I could forward the email in its entirety to you all, however I am trying to abide by the confidentiality agreement. Here's the bulk of what he said:
"I just wanted to write and tell you how much I appreciated the care package that I received from you and The Citadel. I am stationed on a remote firebase on the Afghan/Pakistan border. Mail is the only thing that reminds us of home and why we get up in the mornings. I received the box the day before Christmas and can't tell you how nice it was to be able to open it up and read the letters that were included. Christmas was somber as most of the guys were a little down from not being able to be with or contact family members. In just this past year I have been gone, I have realized the meaning of "The Citadel Family". I was not a perfect cadet or the smartest, but the support I have received from you all has been amazing. I just wanted to let you know that your boxes do bring immeasurable joy and happiness to those of us over here."
Please thank those school children and teachers who wrote and designed those beautiful cards and letters---these messages of love and caring are traveling throughout the world and are making huge impacts on our soldiers. I will continue to keep you all updated.
John
---
News about our Local Cadets

Royce Eldridge, son of Frank and Edie, attended our last business meeting held at O'Charlie's. He has made the decision to attend the Citadel. Let's all be available for him in any way he may need.

| | |
| --- | --- |
| | David Conlan and Will Nall - Newnan boys on the move. The following article was written by Will Nall, son of Susan and Lee Nall ('71). |
It was the 15th of August 2005 when David Conlan and I walked through the wrought-iron gates of The Citadel on the outskirts of Charleston, South Carolina. Three years later, the two of us stand on the precipice of new life; the two of us determined to forge new lives. But what of our time at The Citadel, what have we experienced that has made us so determined? I will tell you what I frequently tell others: we were both raised in Newnan, but we grew up in Charleston. The virtues fostered in us through our families, school, church, and community gave us the strength and motivation to make it through the nine grueling months of our first year, our "Knob" year, and through all of our achievements these past three years.
In the first semester of our Knob year, David received a full scholarship through the United States Marine Corps. In the second semester of the same year I enlisted in the Army National Guard, and spent my first summer of college at Fort Benning, Georgia. Our sophomore year David returned early to The Citadel in order to participate in "Cadre," or otherwise known as "Hell Week," which serves as the initial training period for the Knob class. For David to participate in the Cadre training period is exceptional as a sophomore; however, David was a Company Clerk, the highest rank attainable by a sophomore.
I arrived at school that year a week later with the rest of the Corps, and served as a Private for the first semester. As a result of my enlistment, summer training experience, and pervious years academic success I was awarded a three-year Army ROTC scholarship. Second semester of our sophomore year David and I both received the rank of Cadet Corporal within the Corps, and began the training process for our inevitable role as leaders in our Junior and Senior years.
The summer of our sophomore year I decided to take a break, and lived most of the summer in Charleston. David, however, received a slot to attend the Marine's Mountain Warfare School; the slots are determined by an order of merit based on academics, physical fitness, and achievements within the Corps of Cadets. The following August, David and I both returned for Cadre as cadet training Non-Commissioned Officers (NCOs), and to then served as Cadet NCOs within the Corps for our Junior year.
In the last semester of our Junior year David took it upon himself to tryout for the Summerall Guards, an elite drill group composed of sixty-one cadets. The Guard's training program is four weeks long; for six hours everyday the Bond Volunteer Aspirants-as they are known-endure intense physical training and rifle drill. At the end of the training, David was accepted as one of the 2009 Summerall Guards. The Guards perform annually at various events across the South, to include Mardi Gras in New Orleans, LA., and when able, the Presidential Inauguration in Washington, D.C. By the end of the semester David also received the rank of Cadet Captain as the Foxtrot Company Commander.
While David was training for the Summerall Guards I was also training, but my training was not nearly as physically intense. I was in training to become a member of the 2009 Honor Committee, an elected body within the Corps which serves to uphold the oldest tradition at The Citadel: Honor. It is a code that David and I along with every Cadet learn from the first day of Hell Week: "A Cadet does not Lie, Cheat, Steal, nor Tolerate those who do." Cadets who are found in violation of The Citadel's Honor Code are expelled from the institution. Honor Representatives and Committee members are members of the senior class, and are elected by their peers to serve for the academic year. I am proud to say that I was elected to the second highest position, Vice Chairman of the Honor Committee. I feel that the values and integrity instilled in me by my family, friends, and community are what compelled me to achieve this position.
This summer David and I will both be attending out respective military branches' necessary training cycle in order to be commissioned as Second Lieutenants following our graduations in May of 2009. In May of 2009 David will receive his Bachelors degree in Business Administration, and I will receive a Bachelors of Art in English with a minor in Philosophy.
I cannot say what will happen in the future, but I can tell you what I know. David and I were fostered from a community that has always stood for the principles of American society, and instilled in each of us are the virtues necessary to payback our community with honor and dedication to the ideals of the United States. I stand by this promise with both the willingness and knowledge of sacrifice at heart, because if I have learned anything, then I have learned one idea-there are things in life worth sacrificing for.
---
Late Update
Brian, How's it going? I saw your latest letter when I came home last week for a two week vacation. Unfortunately, I will be back in Egypt when you have the meeting on July 19. I retired from the Army last summer and took a job in the Sinai with the Multinational Force and Observers (MFO). En route, we moved to Seneca, SC, so we are no longer in the South Atlanta area. You might want to take me off your mailing list to avoid the expense although I am happy to stay on the email list.
Our daughter Caroline is still at the Citadel and doing well. She is a rising junior, a cheerleader, and she just made Gold Stars.
I really enjoyed the Southside club's events.
Please give my regards to the Judge and Banks and the other regulars.
Regards, Norm Rudd '84

---
| | |
| --- | --- |
| | Royce Eldridge (left) was awarded a Naval Reserve Officer Training Corps Scholarship in the amount of $100,000 by Captain Redick. |
---
Thunderbirds over Campus

Picture courtesy of Dana Graham - click on photo for larger view. (appears to be at low tide).
---
Citadel Grad Brian Brennan '06 severely injured in Iraq - desperately needs our financial help! Click here for full story
---
A report on the Sept 2007 Golf Outing
Greetings Men of the Long Gray Line
Thank to everyone joining us for our golf outing at Orchard Hills.
It seems as though everyone had a nice time and our teams were fairly evenly matched........other than the fact that Marty claimed to still be injured!! Yeah, right. We all saw his approach shot into #18, where his team proceeded to drop the 10 foot birdie putt. What a sandbagger! Good thing Tiny and Marty had some youth on their team though...........I'm not so sure these old corps guys could have made it all 18 holes without them. By the way..........did you notice it was Tiny's son that made the birdie putt on #18???? I wonder if Tiny and Marty actually contributed??? The only contribution I saw from these guys was their aluminum can deposits into the back of the cart!!
I trust everyone had as good a time as we did in our group! All I can say is that I'm glad I had my 2 partners...........I'm just sorry they got strapped and burdened with me. One of my partners, Banks, claims he hasn't picked up a club in 40+ years, yet managed birdie putts for our team on holes #1 and #3. Granted, our first hole was a tv tapp-in, but his putt on #3 was an uphill, double-breaker, from about 20 feet. Way to go Banks. Not so sure he hasn't seen a club in 40 years.........but we had a great time and lots of laughs. My son, Will, also did a great job of keeping our team in the game........when he wasn't hunting for misdirected balls hit by his teammates.
The team of Boyd, Davis, and Ritchey seemed to be hitting some incredible shots everytime we turned around to watch............I loved watching Wilder's approach on the par 5 (#14) land about 4 feet from the pin. Didn't stick around to see the result.......but I sure hope they made that putt for birdie!! I can also say that the 2 times they came up behind us on the tee box...........we caved at the pressure by making our only 2 bogies of the day. You guys were like Tiger Woods............intimidating the hell out of us!!
Again........thanks for coming. It was especially nice to have a new face in the crowd..........John Ritchey.............thanks for joining us. Hopefully, you will join us for more meetings in the future, despite the fact you had to spend the day with Boyd and Davis!! I hope they didn't scare you away.
We'll need to try to get together for some more golf in the near future. Take care for now...........and keep checking the website for schedule updates.


---
July 19 2007 Meeting

Boy's night out at Marty Potash's house. His bride was extremely understanding (she would have to be to live with Marty). Great food and fellowship. We had originally planned for a Poker night but never seemed to get around to it because we were having so much fun doing other things. Marty was a great host. One problem with having a "boys only" evening is that no one remembered to bring cameras, so we don't have any pictures to show you of Marty's private hideaway with his extensive collection of vintage victrolas.
---
June 24th 2007 Meeting
Although many folks were on vacation or could not attend because we sent invitations with such short advance notice, we had a respectable turnout of 10 alumni and family. And while the venue was not as idylic as Jack Camp's cabin, it seems the kids and grownups had a really good time. And, in spite of the high tempertatures, everyone seemed quite comfortable.

Pictures from the June 2007 Meeting

---
Annual Muster held on March 24th 2007
The SouthSide Atlanta Club held our annual Muster in honor of those of the long grey line who have passed away during this previous year. As always it is a very moving experience for all of us. We apologize for getting the invitation out with such short notice - this was evidenced by the few alumni in attendance. However we were able to have the same bugler as last year (her brother is finishing up his knob year). We welcome Bob Smith (one of Jack's classmates) and his lovely wife who have moved to Newnan and live in White Oak. Doug Powell treated us to some genuine German Sausage and Jack Camp came in with a BBQ ham shoulder. David Boyd was there with his usual wit and repartee - experience which more than likely came to him in a dream.
One fact became painfully obvious during the singing of our Alma Mater after Muster - not one of us can carry a tune nor could anyone remember the tune. For that reason we have put a recording on this webpage (left column) just below the words... go ahead and play it to see if you can sing along.


---
November 4th 2006 Meeting
We had a great meeting on Saturday November 4th which featured our own David Boyd ('62), political cartoonist, political activist, artist, humorist, sculptor and all-around renaissance man who entertained us with a history of his political cartoons as well as his illustrations of all the "You might be a redneck" books. Click here for a bit more about David.
Click here for pictures

Pictures from the November 2006 Meeting

---
Farewell to "The Boo"

Those of us who were fortunate enough to have been at the Citadel when Lt.Col. Courvoisie was the Assistant Commandant all know what a tremendous influence he had on all of us and his death will undoubtedly cause us to "remember when". Pat Conroy delivered the eulogy for "The Boo" on Wednesday 3 May 2006 at the Summerall Chapel. Click here for the full transcript - written in Pat's inimitable style. And lest you think this has only local import, read the Dallas Tx article sent in by Jack's cousin, Katie Camp Knighton. And here's a writeup from the Charleston Post and Courier.

---
March 2006 Muster
L-R VP Brian Bossman '87, Pres Brian Cavanaugh '87, Elvis Mack '00, Norm Rudd '84, Dave Hewes '70, Jack Camp '65, Doug Powell '72. The Bugler was a Northgate HS Freshman who did a great job on Taps for us.


---
November Meeting: Battle of Brown's Mill Excursion
On November 19th we were treated to a bit of Civil War History. Noted history buff, Dr. Kerry Elliot, took us on an excursion of the site of the Battle of Brown's Mill and afterwards shared with us the many artifacts he has discovered. Found out that our own Jack Camp is quite the historian as well.
More on this as well as pictures - click here.
Pictures from the November 2005 Battle of Brown's Mill Exploration

---
Pictures of Thanksgiving 2005 at "El Cid"
Several months back we announced that one of our local cadets, Kristina Faith Romero of Fayetteville, had earned Gold Stars! Well, she has sent us more information about herself as well as a few pictures. She is a Senior in Lima Company, Cadet Captain - 3rd Battalion Supply Officer, and is going with the US Navy upon Graduation. Here are a few pictures she sent. She wanted to attend our November meeting, but had to cheer on our Bulldogs against VMI.


---
Pass in Review for Jack Camp
The Corps of Cadets paraded in honor of alumni who are Judges on the federal bench on the weekend of the Woffard game: Our own Jack Camp '65 (GA), Patrick Duffy '65 (SC) and Harvey Schlesinger, '64 (FLA). Congratulations Jack!

| | | |
| --- | --- | --- |
| The Corps salutes Judge Camp. Citadel vs Wofford | Cadet Fulmer of Baltimore MD offers Judge Camp popcorn, cokes and a visor to watch the game. | This Halloween Bulldog is a regular at Citadel games! |
---
Class of 2009's Newest Cadets
Joined us for the Folly Beach Party.

Joshua Brent (Josh) Bissell
Donald & Brenda Bissell
722 Flat Creek Trail
Fayetteville Ga 30214
The Citadel is the ONLY school to which Josh applied! A true believer




David Conlan
Paul & Susan Conlan
38 College St.
Newnan Ga 30263

William Robert (Will) Nall
Lee ('72) & Susan Nall
2270 Smokey Rd
Newnan Ga 30263
Following in the footsetps of both his Dad and his Granddad.


Caroline Rudd
Norm ('84) & Cynde Rudd
145 Maple Place
Fayetteville Ga 30215
Full 4 year ROTC scholarship - even turned down offer from Clemson (her Mom's Alma Mater) Way to go!
---
Folly Beach Shag Party - Major Blowout!
What a great gathering we had on Saturday August 6th 2005 at Jack's cabin. The theme was really appropriate and we had close to 70 folks in attendance. All 4 of the incoming knobs were there as were their families. Brian Cavanaugh made some of his world famous Low Country Boil to go along with standard "yankee" fare of hotdogs and hamburgers. Add to this our wives, children and dogs - fishing and games - and it turned out great. We did get a thunderboomer right after supper, but managed to stay dry in the cabin. Had several new folks come and all known updates are now on the Members page.

Pictures by Liz Camp! Click picture for larger view.
click here for more pictures

Pictures from the Folly Beach Party August 2005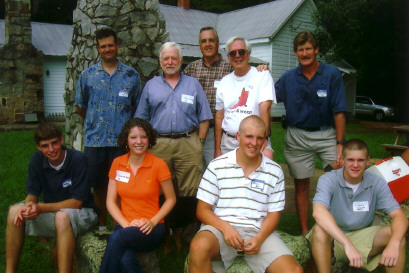 Officers and incoming Cadets. L-R back row: President Brian Cavanaugh '87, club co-founder Jack Camp '65, Treasurer Tiny Menchinger '80, club co-founder Banks Glover '69, Sargent-at-Arms Marty Potash '78. Front Row Josh Bissell, Caroline Rudd, Will Nall and David Conlan

---
Academic Excellence
The Citadel Spring 2005 Dean's list features 2 cadets from our area. Both receiving GOLD STARS (an average of 3.7 and above):
Brian Clark Corbett of Newnan
Kristina Faith Romero of Fayetteville

---
More on Academics...

Academic Standards
Dana Graham sent this to me... pretty heady stuff!


To the Board of Visitors:
Colonel Love would like to share with the Board of Visitors the following information excerpted from an e-mail message sent by General Steven. Colonel Love's comment was, "Here's something else we have to be proud of!"
Regards,
Pat Kinard
Office of the President
The Citadel
843.953.5092
The Princeton Review has a set of rankings and information that offer another perspective on how we are perceived nationally. One of their metrics is an "Academic Rating," defined as:
Academic Rating: How hard students work and how much they get back for their efforts, on a scale of 60-99. This rating is calculated from student survey results and statistical information reported by administrators. Factors weighed include how many hours students study outside of the classroom and the quality of students the school attracts. We also considered students' assessments of their professors, class size, student-teacher ratio, use of teaching assistants, amount of class discussion, registration, and resources. Please note that if a school has an Academic Rating of 60*, it means that the school did not report to us a sufficient number of the statistics that go into the rating by our deadline. Please also note that a school with an Admissions Selectivity Rating of 60* will have an Academic Rating that is lower than it should be, since the Admissions Selectivity Rating is a factor in the calculation that produces the Academic Rating.
Here are some of the Academic Ratings that I found:
Academic Rating (60-99)
Source: Princeton Review 2006
Williams College
United States Military Academy
Harvard University
Massachusetts Institute of Technology
The Citadel
College of William and Mary
University of California, Berkeley
University of Virginia
Virginia Military Institute
College of Charleston
James Madison University
Clemson University

99
97
96
96
91
89
89
87
85
80
80
79
---
How 'bout them Dogs? (not the UGA dogs!)
Once upon a season The Citadel played a huge role in the ouster of an SEC football coach in mid-season when Arkansas's Jack Crowe fell to the mighty military might of this Southern Conference football giant. Heck, The Citadel gave Florida State fits for a half this year as well, and Auburn wasn't too impressive against them a year ago either.
Is it possible that discipline alone, or the lack of it, as the case may be, could determine the outcome of yet another Ole Miss loss? Who knows? The Oaf of Oxford is certainly on a tear through the Rebel record books. Who can say when the losing will stop? OLE MISS 10, The Citadel 9. This is from an Auburn University staff writer.

---
BUSTED!
Our own Ray Mayer '74, Coweta's District Attorney, had a great picture in the local paper surrounded with over 100 marijuana plants. Ray has done a magnificent job keeping the pressure on the 'bad guys' and has yet to back down from a challenge. We are fortunate to have him as such an integral part of Law Enforcement.


---
May 2005 Meeting
The May meeting was our Annual campout with the family event. We combined feasting, fishing, fun, some target practice and actually got some business accomplished. One key issue we are addressing is that of how to increase attendance. While we know that this is something faced by all clubs, there is every reason to believe we can have the most active club around. We decided to theme our next meeting around a membership drive - the Folly Beach weekend. Suggestions include steamed oysters like those we enjoyed from the famed Bowens Island! Check back frequently and we will change the calendar once we have codified the details.
Pictures from the May 2005 Family Campout Meeting

---
Pictures from the Spring (March) 2005 Meeting - Muster Formation
---
Local Newsworthy Events
1. Over the Christmas Holidays an honorary member of the Southside Citadel Club was born to Mr. and Mrs. Brian Bossman. Master "Ryan" Bossman resides on Longwood Drive with folks and 3 sibs.
2. February ' 05 issue of Southern Living features a story about the "Redneck Figurines" -- idea by none other than Club Member, David Boyd '60, when putting heads together with Jeff Foxworthy and Mike Steed. Seen in every gift store from coast to coast, these collectibles can be purchased locally. Boyd is cited in the feature story.

---
November 2004 Meeting
November's meeting on 13 November was held at Jack's cabin but the turnout was disappointing - only 8 alumni attended! Perhaps it was the Georgia-Auburn game or maybe the last-minute notification. Brian Bossman got us some of that great Johnny Brown's BBQ and ribs... you missed a good meal, complete with some notable homemade mac n cheese, beans and finished off with some homemade fresh blueberry cobbler.
On a more positive note, we finalized quite a few administrative issues: Both Brian Cavanaugh and Brian Bossman volunteered to serve another term as President and Vice President respectively. Marty Potash was elected Sergent-at-Arms and "Tiny" Menchinger, Treasurer. The mechanism for dues was put into place. It was decided that we will develop and publish the entirety of next year's meeting schedule on the calendar to include the theme and the venue as well as other important club related events.
In the interest of keeping everyone informed, Liz Camp was "volunteered" by Jack to publish the newsletters for us.
In our quest to increase attendance as well as membership we will regularly send both email and snail mail notification reminders of the meeting and will begin a telephone campaign to get folks to attend.
If you know of any West Point grad (even VMI or Texas A&M) we certainly welcome them as they are kindred spirits - the rivalry is replaced with camaradarie over time.
To view Jack's precise minutes, click here.


---
Citadel-Auburn Football Game
Although few of us expected to win a victory on the football field, we scored a BIG WIN in the hearts and minds of those who were first learning about our Alma Mater. Look at this great article that was written by Mike Szvetitz, the sports editor of the Opelika-Auburn News.

Some Humor sent in by Liz... enjoy

---
Y'all Magazine article on the Citadel
Liz Camp once again finds some great press about our Hallowed Institution. The September/October issue of Y'all (The Magazine of Southern People) had a great write-up. We apologize for the quality of these scans, but Liz had sent the original magazine to her daughter at the College of Charleston and only had these photocopies. Click on each picture below for a larger (and readable) view. Liz says that she got the magazine at Hastings here in Newnan (Next to the Kroger on Bullsboro)


---
College Fair October 04
Newnan school system hosted a College Fair at the Central Education Center on Monday October 18th. The Citadel was represented by both Brian Cavanaugh and Brian Bossman, who reported that that several folks were interested - and while we pushed the academic credentials, most were interested in the ROTC aspects. Thanks to you both! Also, Dana Graham hosted the College Fair in Harris County - thanks Dana!


---
September 04 Meeting
This long overdue meeting was a phenomenal success! We were able to count 14 members plus 3 who came but could not stay the entire evening. The ribs and accoutrements left me feeling the need for a nap. The fishing, relaxation and camaraderie were a welcome relief from the work-a-day world. Click here for a brief synopsis as well as some great pictures.

Jack Camp recorded the minutes of the meeting (thanks Jack). Click here to view the minutes.

---
Spring '04 Meeting
Our Spring Meeting was outstanding! We had it at Jack's cabin, beginning Friday night with camping out for father/sons as well as those others so inclined, and Friday afternoon fishing, with some bluegrass music provided by Banks' family bluegrass band (The Straynotes). Saturday everyone enjoyed local BBQ.
Here are a few of the pictures.

---

Annual Muster March 2004
We held Muster in honor of those Alumni who have crossed the great divide on Saturday, 20 March 2004 at the Newnan Holiday Inn Express.
The first annual Citadel Alumni Muster was held in 1998. It was an Alumni Association initiative designed to facilitate an annual coming together of all alumni of the institution, with the purpose of recognizing those in the long gray line of the South Carolina Corps of Cadets who have passed away during the preceding year.
The tradition of Texas A&M, which has conducted Musters since 1883, has been used to develop a new tradition for The Citadel. In honoring those who can no longer stand formation, the event creates a rallying point for alumni. This simplifies the process of getting alumni together by establishing a set date for the rendezvous.
Alumni will come to know that the Muster is always on an exact date - Corps Day, March 20th -- no matter what day of the week it occurs.
In that regard, the Muster is indeed a formation. All graduates and former members of the Corps are expected to report.
---
Pictures from the Fall (September) 2004 Meeting

Pictures from the Spring (April) 2004 Meeting

Pictures from the November 2003, December 2003 and February 2004 Meetings.